Yes, you can mirror your Android tablet/phone to the projection screen via NovoPRO provided that your tablet/phone supports Miracast-type screen mirroring. No App is required to use this function.
Please note: The following steps are illustrated using Google's Nexus 7 Android tablet. Your tablet/phone may have a slightly different steps, and, may have a different name (like "Cast Screen", "Miracast", "Screen Mirroring", etc.)
1. Connect your Android iOS tablet or phone to the same network as your NovoPRO.
2. Swipe down from the top of the Android device to show the Control Center, and then tap Cast button.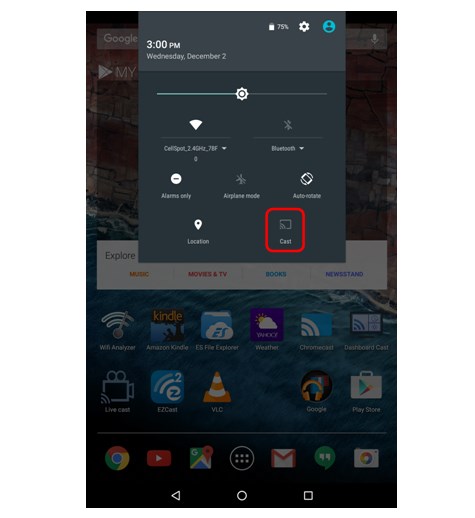 3. You will see a connection history. If this is the first time to set up such a connection, this list is empty. Please tap "MORE SETTINGS" to continue.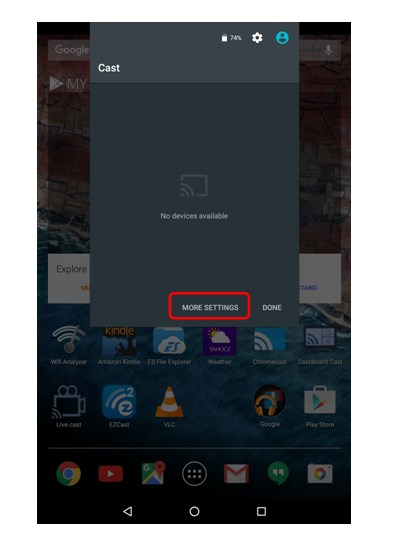 4. After some scanning, you will see a list of available devices. Tab the one you desired to connect. In this case, "Novo-C87F6" is the one.

5. Then your tablet/phone starts the connection process

6. After a few seconds (up to a minute or two), if connection is successfully set up, it shows "Connected". At this moment, your tablet/phone's full screen should have been mirrored to the projection screen..